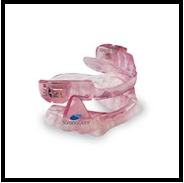 At Spark Sleep Solutions, we believe everyone deserves to get a full, restful night of sleep, every night – and we're proud to provide comprehensive sleep apnea treatment to the San Jose, Los Gatos, and San Ramon areas to help our patients achieve just that. That said, we understand that conventional treatments like CPAP machines can be cumbersome and difficult to use. Thankfully, we offer a variety of CPAP alternatives to help you get past sleep apnea and reclaim the restful, healthy sleep you deserve.
Sleep Apnea Alternatives in San Jose
If you suffer from sleep apnea, you know how awful sleep deprivation can be – but you may also know that CPAP machines sometimes feel like they cause more trouble than help. Thankfully, our small, comfortable CPAP alternatives allow you to get a restful night of sleep without a face mask or a machine. We offer a wide range of CPAP alternatives and sleep apnea mouthguards, but here are a few of the most popular that we provide:
Somnomed Appliance
Leader in Continuous Open Airway Therapy (COAT)
Premium, custom-fitted device
Repositions lower jaw to keep airway open
91% of patients report improvement in sleep
You can fully open and close your mouth while wearing the appliance
Respire Medical Appliance
Uses a telescoping arm for enhanced jaw movement
Available in configurations with softer plastic for improved comfort
Easily adjustable
Up to 6mm of jaw movement, allowing for strong open airway
ResMed Lingual
Flexible, biocompatible material
One of the lightest oral appliances available
Able to talk and drink freely while wearing device
Ergonomic construction for improved comfort
DNA Sleep Appliance System
Alternative to conventional sleep apnea appliances
Works to correct tooth and jaw alignment issues over time
Worn both day and night
In the long-term, can reduce sleep apnea by changing the structure of the jaw entirely
TAP PAP Nasal Pillow
A more robust solution that still presents a comfortable alternative to CPAP
Provides positive airway pressure without a face mask or headgear
Comfortable, moldable mouthpiece
Excellent for more serious cases of sleep apnea
Schedule a Consultation with Your San Jose Sleep Apnea Treatment Center
These are just a few of the CPAP alternatives we offer at our office – and if you'd like to find out more about how we can treat your sleep apnea without a CPAP machine, we'd love to help. Request an appointment online today to schedule your consultation, or if you'd like to learn more, attend one of our free sleep apnea seminars to learn all there is to know about CPAP alternatives. We can't wait to hear from you, and we look forward to helping you reclaim the sleep you deserve!